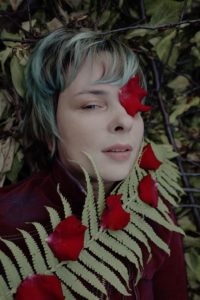 ABOUT BOHDANA SMYRNOVA
BOHDANA SMYRNOVA'S BIO: 
Bohdana Smyrnova is a film writer/director of intimate female driven dramas. With a captive eye for mixed messages, Smyrnova has worked out a meticulous improvisational script development technique that provides actors space to explore and actively engage, which later translates beautifully on-screen in authentic and idiosyncratic portraits. She holds an MFA in film production from NYU (USA) where she was Dean's Fellow, and a BA from Karpenko-Karyi institute of Theatrical Arts in Ukraine. She is an alumna of presigious Cannes Film Festival Residence and Script East screenwriting lab. Her short films were screened at over 350 events around the world, including Rotterdam IFF, Clermont-Ferrand, Slamdance, Taipei Golden Horse, and French theatrical release. Bohdana's films/projects won over 20 awards. She has taught film in Syracuse and Wesleyan universities. She is currently preparing her debut feature film. Smyrnova splits her time between the USA and Ukraine.
AWARDS & RECOGNITIONS
2017 – Shortlist, Cinemart (Rotterdam IFF, Netherlands)
2017 – Transatlantic Partners
2017 – ScripTeast Screenwriting Lab 2016-2017 (Sterdyn, Poland; Berlin, Germany; Cannes, France)
2016 – 50% of the feature film budget is awarded by Ukrainian State Film Fund for Anywhere She Goes (formerly known as Nirvana Guest House)
2016 – Connecting Cottbus: Focus of Ukraine Pitching Session
2016 – Micromarket London (UK)
2015 – Shortlist, June Sundance Screenwriting Lab (Park City, UT)
2015 – Shortlist, January Sundance Screenwriting Lab (Park City, UT)
2013 – Manny Award, Take Two Film Festival (New York, NY)
2012 – Wasserman Award Nomination, 'First Run' Film Festival (New York, NY)
2011 – Shortlist, Sundance Screenwriting Lab (Park City, UT)
2011 – Ron Tibbet Award for Excellence in Film, Magnolia Independent Film Festival (Starkville, MS)
2011 – La Residence de Cinefondation (Residence of Cannes Film Festival)
2011 – 2nd Place on 'F**ck the Valentine's Day' competition
2010 – Prize 'For Best Direction, "Start" Film Festival (Baku, Azerbaijan)
2010 – Prize 'For Best Direction, "Vidkryta Nich" Film Festival (Ukraine)
2009 – Prize for 'For Best Foreign Film,' First Annual Snohomish Carnegie International Film Festival (Seattle, WA)
2009 – Jury award, 92Y Tribeca Short Slam (New York, NY)
2008 – Sloan Feature Film Award semi-finalist
2008 – Prize "For Excellence in Filmmaking", First Run Film Festival (New York, NY)
2007 – AMPAS Grant (American Motion Picture and Science)
2007 – Sarah Driver Award, nominated
2006 – Prize for best female acting, Festival of Brazilian Cinema in Brasilia
2005 – Dean's Fellowship, New York University
2002 –  Jury diploma, International Audiovisual Festival Azerbaijan, Prize "For Best Direction," NYExpo (New York)
2002 – Prize "For Best Direction," Capalbio Short Film Festival (Italy)
2002 – Prize from the general sponsor, "Vidkryta Nich" Film Festival (Ukraine)
2002 – Diploma "For A Fresh and Charming Tale," Message to Man International Film Festival (Russia)