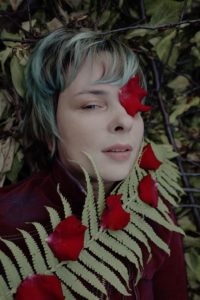 ABOUT BOHDANA SMYRNOVA
BOHDANA SMYRNOVA'S BIO: 
Bohdana Smyrnova started making films at the age of 17 in Kyiv, Ukraine. Her short film Les demarches des papiers had already received international recognition when she moved to New York in 2005 to join NYU's graduate film program with the Dean's Fellowship. To date, Bohdana's shorts have been screened at more than 200 events around the world including French theatrical release and prestigious festivals such as Rotterdam, Clermont-Ferrand, Taipei Golden Horse, and Slamdance, garnering over 20 awards. She has taught film at Syracuse and Wesleyan Universities (USA).
A filmmaker with a distinct voice, Bohdana explores through her stories complex human relationships, desires conflicting with reality, and situations that pose no right choice. She is currently developing her first feature film Anywhere She Goes to be shot in New York, USA, and Chernivtsi, Ukraine.
AWARDS & RECOGNITIONS
2017 – Transatlantic Partners
2017 – ScripTeast Screenwriting Lab 2016-2017 (Sterdyn, Poland; Berlin, Germany; Cannes, France)
2016 – 50% of the feature film budget is awarded by Ukrainian State Film Fund for Anywhere She Goes (formerly known as Nirvana Guest House)
2016 – Connecting Cottbus: Focus of Ukraine Pitching Session
2016 – Micromarket London (UK)
2015 – Shortlist, June Sundance Screenwriting Lab (Park City, UT)
2015 – Shortlist, January Sundance Screenwriting Lab (Park City, UT)
2013 – Manny Award, Take Two Film Festival (New York, NY)
2012 – Wasserman Award Nomination, 'First Run' Film Festival (New York, NY)
2011 – Shortlist, Sundance Screenwriting Lab (Park City, UT)
2011 – Ron Tibbet Award for Excellence in Film, Magnolia Independent Film Festival (Starkville, MS)
2011 – Residence of Cannes Film Festival
2011 – 2nd Place on 'F**ck the Valentine's Day' competition
2010 – Prize 'For Best Direction, "Start" Film Festival (Baku, Azerbaijan)
2010 – Prize 'For Best Direction, "Vidkryta Nich" Film Festival (Ukraine)
2009 – Prize for 'For Best Foreign Film,' First Annual Snohomish Carnegie International Film Festival (Seattle, WA)
2009 – Jury award, 92Y Tribeca Short Slam (New York, NY)
2008 – Sloan Feature Film Award semi-finalist
2008 – Prize "For Excellence in Filmmaking", First Run Film Festival (New York, NY)
2007 – AMPAS Grant (American Motion Picture and Science)
2007 – Sarah Driver Award, nominated
2006 – Prize for best female acting, Festival of Brazilian Cinema in Brasilia
2005 – Dean's Fellowship, New York University
2002 –  Jury diploma, International Audiovisual Festival Azerbaijan, Prize "For Best Direction," NYExpo (New York)
2002 – Prize "For Best Direction," Capalbio Short Film Festival (Italy)
2002 – Prize from the general sponsor, "Vidkryta Nich" Film Festival (Ukraine)
2002 – Diploma "For A Fresh and Charming Tale," Message to Man International Film Festival (Russia)